Austin Ridesharing Accident Attorneys
Dealing with an Accident with a Lyft or Uber Driver
The popularity of ridesharing platforms, such as Uber and Lyft, has led to the question, "Who is responsible for my accident?" These companies operate under different rules than regulated taxi services, making the distinction important to understand. As more and more people turn to ridesharing apps for a cheap and convenient way to get around, the number of ridesharing accidents has increased.
If you were injured in an accident involving an Uber, Lyft, or another type of rideshare, reach out to the Austin ridesharing accident attorneys at Briggle & Polan, PLLC for a free consultation. The amount of compensation you may be able to recover will depend on the circumstances involved. Were you a passenger in the Uber? Were you hit by a Lyft driver in another vehicle? Was the rideshare driver in question carrying a passenger at the time of the vehicle accident? Determining the answer to these and other questions is crucial for your recovery.
Call our office today at (512) 400-3278 to request a free consultation regarding your rights and legal options. We are available 24/7 and can come to you if needed.
The Risks of Ridesharing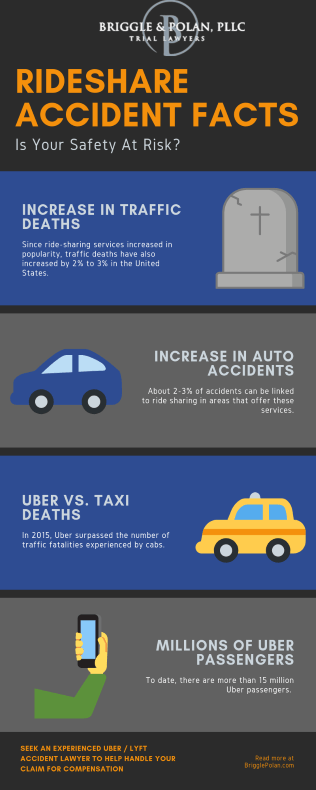 Ridesharing has been the topic of heated debate since its rise to popularity, with citizens and policymakers alike questioning the safety of this mode of transportation. Ridesharing platforms have different hiring standards than regulated taxicab services, making the safety of the drivers questionable. While taxi services look into the full criminal backgrounds of drivers, Uber only looks into the prior seven years. This means if a driver had a charge for driving under the influence (DUI), kidnapping, or assault that was more than seven years ago, he or she could be driving your Uber.
Since 2014, there have been 152 alleged sexual assaults and harassments held against Uber and Lyft drivers. There have been at least 16 deaths, most of which resulted from drunk or negligent ride-sharing drivers. These numbers continue to grow as Uber and Lyft fail to increase their standards, hiring drivers who exhibit unsafe behaviors and habits. Uber and Lyft do not even interview applicants in person before hiring them—a standard that taxicab services have long enforced.
The courts have found dozens of Uber and Lyft drivers to be guilty of driving under the influence of drugs and alcohol, distracted driving, and negligent driving in the last few years. Although these drivers have a duty to exercise care and a responsibility for the safety of passengers, they can make grave errors. When an Uber or Lyft driver causes a car accident, victims need to speak with an Austin ridesharing accident lawyer to find out who is responsible.
What Should I Do If in an Accident with Lyft or Uber?
After being involved in a ridesharing accident, you will likely want to know what steps to take next. Especially when you have medical costs that need to be covered and are suffering from the pain associated with the accident, you should have a clear understanding of what to do to recover compensation.
First, you will want to gather as much information as possible. This will involve taking notes of the scene of the accident, including the time of day and location. You will also want to gather information from all drivers, such as:
The Lyft/Uber driver's contact information
All other drivers' contact information
Insurance information of all drivers, as well as information regarding Lyft/Uber's insurance
Vehicle information
Contact information of all witnesses
You will then want to connect with a rideshare accident lawyer who can help you respond to the insurance companies and get you the compensation you deserve.
Employees vs. Independent Contractors
In a taxicab accident, the courts consider the taxi driver an employee of the company. In these situations, the company's insurance would pay for the victims' damages, including personal injury and property damages. In an Uber or Lyft accident, the outcome of an accident is different because of differing employee classifications.
There has been some recent speculation as to whether the law should consider rideshare drivers independent contractors or employees of the company. Texas is one of eight states that have so far classified ridesharing drivers as independent contractors. Uber drivers in California recently brought a claim against the company for misclassifying employees as independent contractors to avoid paying for business expenses, such as vehicle maintenance and gas while on the job.
When an independent contractor causes a personal injury, the victim(s) may not be able to sue the company. Just as a victim of medical malpractice cannot sue the entire hospital for an independently contracted doctor, the victim of a ridesharing accident cannot sue Uber or Lyft for an independently contracted driver. The courts only hold companies responsible for the actions of their employees based on strict liability laws. Unfortunately, this can lead to smaller settlements for the victims.
Trust Briggle & Polan with your Ride Sharing Accident Case
Hiring an Austin Uber or Lyft accident lawyer is generally the only chance victims have of obtaining compensation for their injuries and other losses. The skilled and aggressive trial lawyers at Briggle & Polan, PLLC have experience handling rideshare accident cases in which the driver is an independent contractor. Our attorneys can take Uber or Lyft to court if necessary to defend your rights as an innocent crash victim.
Contact us online or by phone at (512) 400-3278 to request a free consultation in person or over the phone today! If you have additional questions, check out our car accident FAQ page!

I very much appreciate all their hard work and will be happy to refer to them should the need come up for friends. - Sandi

I couldn't be happier with the services they provided. - Emily

I felt really taken care of, have and will continue to refer to my friends. - Patrick

They got me the help I? needed within a few days of hiring them. - Karina

Briggle and Polan were phenomenal. - Tiffany
$1.8 Million Delivery Truck Accident

Our client was t-boned by a large package delivery truck that was traveling in excess of 70 mph. He sustained a severe neck injury that required spinal surgery. *Net to client was $759,182.96.

$1.5 Million Work Accident Caused Brain Injury

Our client was thrown off the back of a work truck, which fractured his skull and caused him to suffer a traumatic brain injury. *Net proceeds to the client were $900,052.11.

$1.3 Million Hit By Drunk Driver

Our client was run over by a drunk driver operating a company truck late at night which required multiple surgeries and months of rehabilitation. *Net proceeds to our client were $571,000.00.

$1.3 Million Hit and Run Truck Accident

Our client was rear-ended by a large package delivery truck on I-35, which fled the scene. *Net to client was $461,708.19.

$1 Million Rear-End Collision Resolved

Our client was rear-ended by an insurance adjuster in a commercial vehicle causing severe back and neck injuries. *Net to the client was $346,766.03.

$1 Million Drunk Driver T-Bone Collision

Our client was the passenger in a vehicle that was t-boned by a drunk driver, which resulted in her suffering multiple, life-threatening injuries. *Net to client was $395,912.60.

$450 Thousand DWI Wreck Resolved

Our client was rear-ended by a drunk driver, which injured his back and neck. *Net proceeds to the client were $229,040.12.

$450 Thousand 18 Wheeler Rollover Resolved

Our client was an employee working for a company in Montana when he was injured in a rollover collision with an 18-wheeler. *Net to the client was $214,573.81.

$400 Thousand Company Truck Wreck

Our client was traveling down a residential street when a company truck backed out of a driveway into the side of her vehicle. *Net to client was $110,000.

$400 Thousand Defective Tire Case With Co-Counsel

A man driving a cement truck was injured when his tire blew out and the cement truck rolled over. *Net to the client was $123,916.22.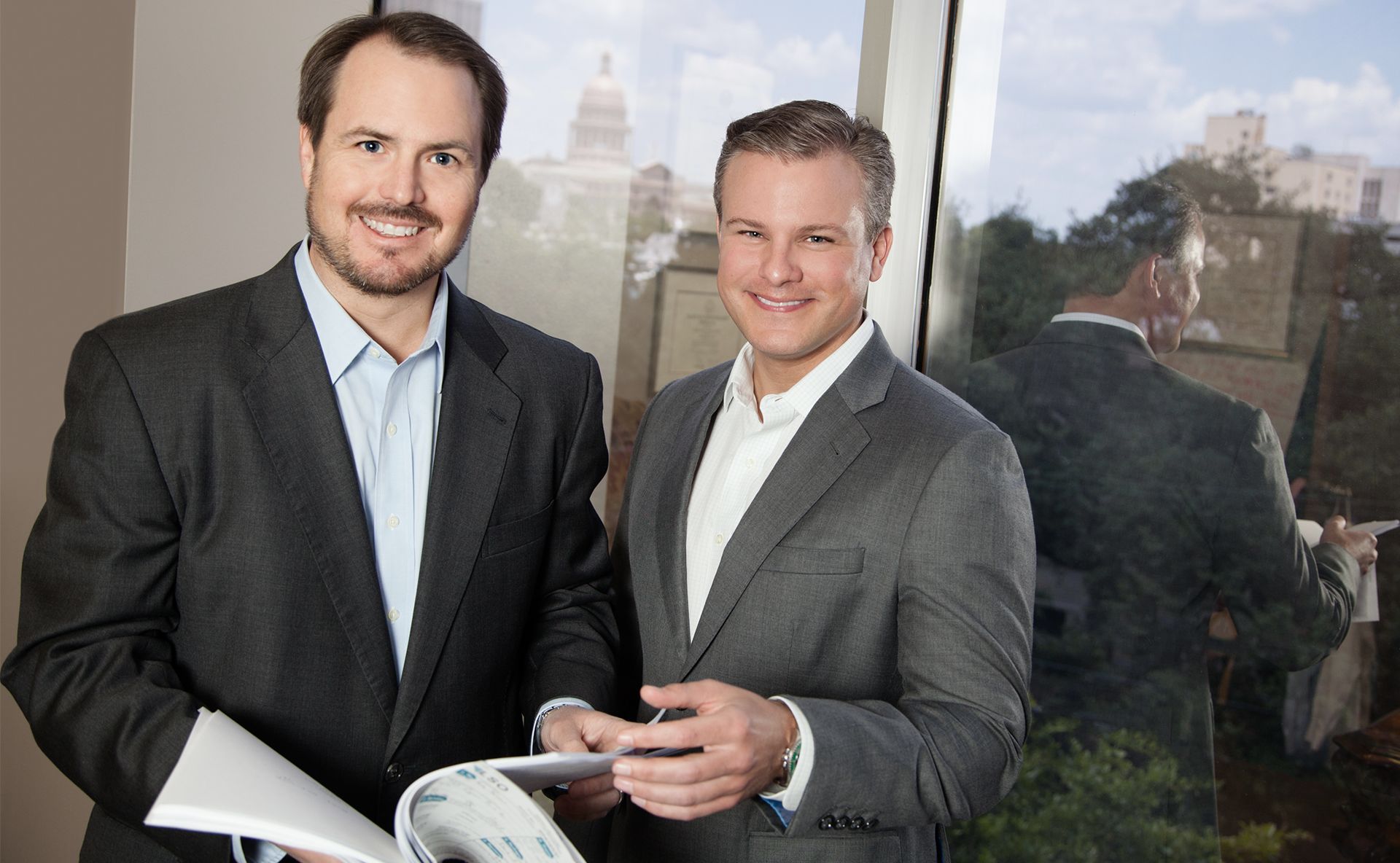 Award-Winning Legal Team Experienced Trial Attorneys That Will Fight For You In Court