Austin Broken Bone Attorneys
Assisting Victims of Catastrophic Broken Bones & Fractures
Broken bones and fractures are very common injuries. Most are relatively minor, given modern medicine's ability to heal the break and prevent complications. But a smaller portion of broken bone cases results in serious injuries that can, for some groups of people, cause long-term problems—even death.
If you or a loved one suffered a catastrophic broken bone injury, Briggle & Polan, PLLC can help you work to recover a just settlement. While we strive to resolve these cases as quickly as possible, we are fully prepared to take your case to trial if necessary. Our Austin broken bone attorneys can fight for you.
Contact us online or give us a call at (512) 400-3278 today for a free, no-obligation consultation.
Types of Fractures
Even minor broken bones and fractures cause pain, require restrictions on the use of the affected bone, result in lost work or school time, and sometimes result in more serious complications. They can happen in falls, motor vehicle accidents, or on the job. In many cases, these are preventable accidents that occur because of someone else's negligence, in which case the victim may have legal recourse against the responsible party.
Different types of fractures include:
Open versus closed fractures: In open fractures, the broken bone is no longer covered by the skin; the bone may have broken through the skin, or the skin may have been damaged by the same force which broke the bone. Open fractures are serious injuries.
Complete versus incomplete fractures: Complete fractures involve total separation of the two segments of the bone; the segments remain partially attached in incomplete fractures
Pattern of the break: Many different break patterns are recognized, including:

Comminuted—the bone has 3 or more fragments
Spiral—the fracture twists around the bone's axis
Oblique—the fracture runs diagonally to the bone' axis
Transverse—the fracture runs perpendicular to the bone's axis
Displaced—the broken ends are no longer aligned
Common Accompanying Injuries
Many people with fractured bones also have injuries to nearby soft tissues like muscles, nerves, and blood vessels.
The soft tissue injuries can be caused by either or both of the following:
The injury was inflicted with so much force that it damaged the soft tissue it encountered before reaching the bone
The broken end of the bone contacted the soft tissue around it
In either case, the soft tissue injuries often lead to longer healing times and can leave permanent functional problems even if the fractured bone heals completely.
Factors Affecting Recovery
While all fractures are similar to a degree and heal by the same process, recovery from a fracture varies considerably from case to case.
The most significant factors that affect the time needed for recovery and the likely long term consequences include:
Which bone is affected; fracturing a hip is a far different than fracturing a small bone in the pinky finger; fracturing a bone in the spine is far different than fracturing a bone in the foot
Whether an upper limb fracture affects the victim's dominant hand (left vs. right)
The type of fracture; a bone broken into several pieces is different than a fracture that involves a single, straight line break
Whether repair requires surgery
The severity of accompanying injuries; recovery from a fracture alone is far different than recovery from a fracture that has broken completely through the skin, damaging the soft tissues on its path
Any complications that occur during recovery, especially osteonecrosis (the death of bone tissue), blood clots, and the failure of the fracture to heal normally
How important the fractured bone is to the victim's work; collarbone fractures keep you away from jobs involving overhead reaching, while leg fractures keep you out of a job where you stand all day longer than out of a job which you can do sitting down
The age of the victim
Fractures in Kids
The unique concern with fractures in children is the potential for damage to the growth plate at the end of the bones. If the growth plate injury is not adequately repaired, the damaged bone may not grow at the same rate as the uninjured bone on the other side. Serious growth plate injuries call for periodic medical follow-ups until it is clear that the growth is proceeding normally. If not, further repair is needed.
Fractures in Seniors
Seniors are especially at risk of fractures. The elderly are very prone to breaking bones because they are prone both to falling and to thinning bones (osteoporosis). The immobility required for fracture healing is especially hard on older people, many of whom already suffer from mobility problems, reduced activity, and other health problems. All in all, fractures in the elderly are far more serious than in other age groups. In fact, the five-year survival rate for elderly people who suffer an osteoporotic hip fracture has been said to resemble that of cancer patients. Osteoporosis is also believed to impair the normal fracture healing process.
Get Quality Legal Help in Austin, Texas
If you or someone you know has suffered a fracture due to another person's fault, it's time to get some legal advice. Even if the injury seems rather simple now, that can rapidly change. If it's already a serious injury, like an open fracture, or the victim is an elderly person, you will want to get help immediately. If repair requires surgery, keep in mind that the surgery itself exposes the patient to additional health risks as well as the pain, discomfort, and anxiety that goes with the procedure.
As extensively experienced Austin broken bone lawyers, we can anticipate likely defenses, such as claims that the fracture was caused or exacerbated by preexisting conditions, like osteoporosis and prior fractures. Our team can work to overcome tactics used by insurance companies aimed at diminishing the value of your claim. We are prepared to serve as your aggressive advocate from start to finish.
For a free consultation, call Briggle & Polan, PLLC at (512) 400-3278 today. Se habla español.

I very much appreciate all their hard work and will be happy to refer to them should the need come up for friends. - Sandi

I couldn't be happier with the services they provided. - Emily

I felt really taken care of, have and will continue to refer to my friends. - Patrick

They got me the help I? needed within a few days of hiring them. - Karina

Briggle and Polan were phenomenal. - Tiffany
$1.8 Million Delivery Truck Accident

Our client was t-boned by a large package delivery truck that was traveling in excess of 70 mph. He sustained a severe neck injury that required spinal surgery. *Net to client was $759,182.96.

$1.5 Million Work Accident Caused Brain Injury

Our client was thrown off the back of a work truck, which fractured his skull and caused him to suffer a traumatic brain injury. *Net proceeds to the client were $900,052.11.

$1.3 Million Hit By Drunk Driver

Our client was run over by a drunk driver operating a company truck late at night which required multiple surgeries and months of rehabilitation. *Net proceeds to our client were $571,000.00.

$1.3 Million Hit and Run Truck Accident

Our client was rear-ended by a large package delivery truck on I-35, which fled the scene. *Net to client was $461,708.19.

$1 Million Rear-End Collision Resolved

Our client was rear-ended by an insurance adjuster in a commercial vehicle causing severe back and neck injuries. *Net to the client was $346,766.03.

$1 Million Drunk Driver T-Bone Collision

Our client was the passenger in a vehicle that was t-boned by a drunk driver, which resulted in her suffering multiple, life-threatening injuries. *Net to client was $395,912.60.

$450 Thousand DWI Wreck Resolved

Our client was rear-ended by a drunk driver, which injured his back and neck. *Net proceeds to the client were $229,040.12.

$450 Thousand 18 Wheeler Rollover Resolved

Our client was an employee working for a company in Montana when he was injured in a rollover collision with an 18-wheeler. *Net to the client was $214,573.81.

$400 Thousand Company Truck Wreck

Our client was traveling down a residential street when a company truck backed out of a driveway into the side of her vehicle. *Net to client was $110,000.

$400 Thousand Defective Tire Case With Co-Counsel

A man driving a cement truck was injured when his tire blew out and the cement truck rolled over. *Net to the client was $123,916.22.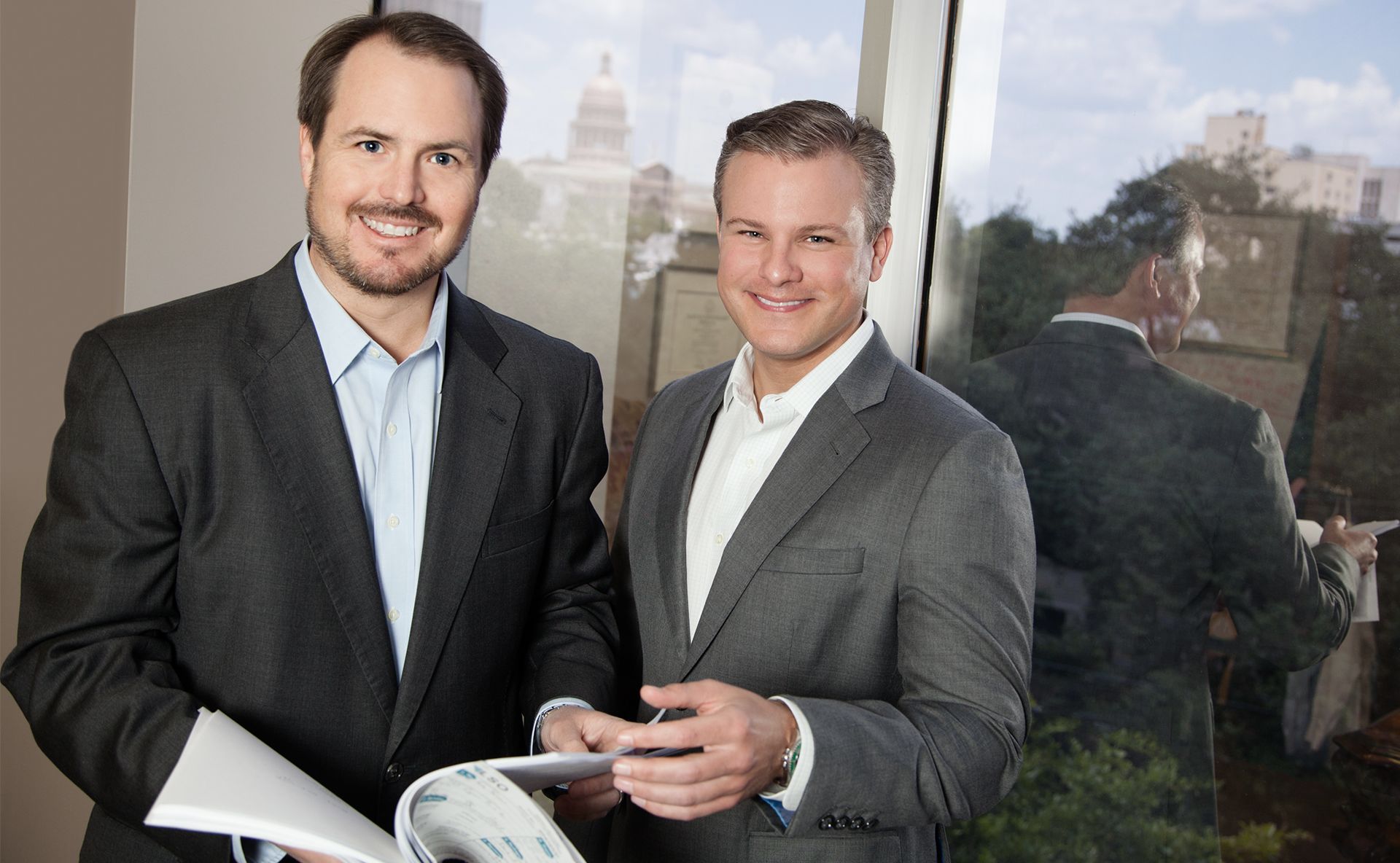 Award-Winning Legal Team Experienced Trial Attorneys That Will Fight For You In Court